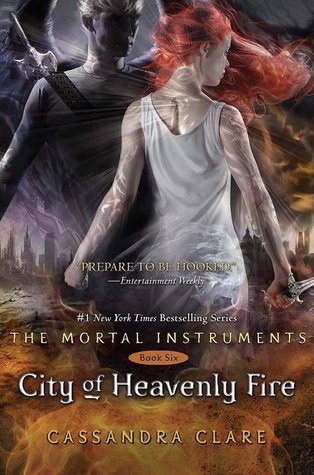 Title:
City of Heavenly Fire by Cassandra Clare
Series:
The Mortal Instruments, Book #6
Publication:
May 28th 2014 by Walker Books Ltd
Genre:
Fantasy, Young-adult, Urban fantasy
Pages:
733
Format:
Paperback
Source:
Purchased
Buy: Amazon UK / The Book Depository
Rating:
4/5 Stars
Synopsis:
Lives will be lost, love sacrificed, and the whole world changed in the sixth and last installment of the internationally bestselling The Mortal Instruments series. Erchomai, Sebastian had said. I am coming. Darkness returns to the Shadowhunter world. As their society falls apart around them, Clary, Jace, Simon and their friends must band together to fight the greatest evil the Nephilim have ever faced: Clary's own brother. Nothing in this world can defeat him - must they journey to another world to find the chance?


Review:
I would like to start this review by saying that this review may contain spoilers...and I am blaming it all on this being only the second review I have ever written so I am focusing a lot on trying to write the review in the first place, that when I get started talking about something, I just won't stop, You have been warned....


So...where to start, I guess at the beginning. I picked up the mortal instruments series around the time I started watching booktubers, which was a good few months back. The Mortal Instruments was all anyone was talking about on booktube everyone doing reviews, reading it, ranting on about it in book talks and to be honest I felt kind of left out, why hadn't I read this series yet? So I went out and bought it and by the time I got around to finishing the series ( only recently) everyone else had moved on to raving about a new upcoming book.
I found the series as a whole quite enjoyable even though I am only now starting to read more fantasy books. Although I did find towards the middle of the series that it was dragging on a bit too long and I was getting slightly bored of reading about the adventures of Clary, Jace and the gang, but one habit I can never break is that once I start a series I can not read anything else until I finish it ( unless it is under serious circumstances such as a dreaded reading slump) so I pushed through and manged to complete the series.
To my surprise I actually really enjoyed the last installment of the series 'City of Heavenly Fire' as I was nearly ready to give up on the series toward the end and when I saw the size of the last book...lets just say it didn't help, but I think it was my favourite of the lot.
I like how well the author balanced the characters relationships with action and plot twists, as I don't want to read 200 pages on two characters being all soppy and in love and yet I don't want to have to go through 200 pages of action and fighting in order to see how their relationship has progressed. I personally think the author hit this balance just right and I really enjoyed the relationships that were formed between all of the characters not just Clary and Jace.
I have to say the villain of this book, Sebastian, was kind of creepy to me. I get that he wants to rule over hell and what-not, but I found his relationship with Clary to be kind of disturbing at times.Although the ending of the book changed my views toward Sebastian slightly as that ending was just incredible...like holy crap the feels..I was not expecting to feel even the tiniest bit sorry for Sebastian, but the way the ending was written had me feeling sorry for him, or shall I say Jonathan.
Overall, I think what I most enjoyed about this book was the ending. Okay, the rest of the book was good too but it's nothing we haven't already seen in the other books in the series in my opinion. Don't get me wrong I enjoyed the action leading up to the ending, but it was those last few chapters that made me thankful of my habit of completing a series once I start.
This may not make a lot of sense to a lot of you guys, but the first thing that popped into my head when trying to think of how to explain the ending was William Shakespeare. You see I don't know an awful lot about Shakespeare, but in my English class in school we have studied 'The Merchant of Venice' by William Shakespeare and I remember my teacher saying to us that there are two types of Shakespeare plays: Tragedies and comedies. In tragedies everyone dies and in comedies everyone lives happily ever after and gets married....The ending to this book definitely reminded me of a comedy, everyone gets together, Simon comes back, Magus and Alec make-up, the wedding....I am a sucker for endings like this and this one was no exception.
In conclusion, I found this book good, but it was the ending that was unforgettable to me, I would recommend this series to lovers of Fantasy and anyone who is just starting to get into reading Fantasy like me as there is still references to the real world so it doesn't feel totally made up.
Rating: